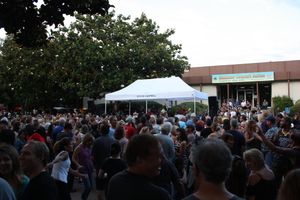 Here's what clients say about Phil 'n The Blanks!
"Phil 'n The Blanks have become regulars to lead the show at our corporate summer concert series. Very talented musicians and vocalists, they are among the best tribute bands for Journey, Doobie Brothers, Eagles, Steely Dan and more. They are extremely entertaining, friendly and engaging. They get people up on the dance floor and even onto the stage to bang on cow bells, sing along, and dance and round out a truly interactive show. Bottom line: A great show and a great band!"
-Ed Medlin, Maxim Integrated, San Jose
"Phil 'n The Blanks entertained for our wedding reception. They were terrific! Our guests had a great time, and spent the entire evening dancing and partying with the band. They play a nice variety of classic and modern rock covers, along with a couple country tunes for the line dancers! They are professional and easy to work with as well. We highly recommend Phil 'n The Blanks for a great wedding reception! 
- Lori and Skip E., Los Altos
"Phil 'n The Blanks has played our Summer Music and Food Fests since we started doing them several years ago. Not only are they one of THE BEST cover bands in the Bay Area, they are really versatile too. They not only play lots of the best Classic Rock tunes that our clientele loves but also some current popular songs and even some Country for the line dancers. They are one of our favorite bands!" 
- Russ S., Los Gatos
"Phil 'n The Blanks are like music super heroes. Most of the members have other professions by day, but off hours their passion and love of music really shines! I have been to three shows and the band always gives it their all. So, if you like to dance, this band is for you. Last year, I recommended Phil 'n The Blanks for a private party and the band created a fun, festive vibe and really got lots of people dancing."
- Yvonne Z., Los Gatos
"Phil 'n The Blanks never disappoints! I've had them play both informal and formal parties, and not only do they play all our rock and roll dancing favorites, but they are classy guys and really easy to work with as well."
- Pilar P., Los Gatos 
"We've had Phil 'n The Blanks play for several important events with an audience ranging from their mid-20s to folks in their 70s. Their repertoire is so versatile, and their performance is very engaging with the audience! We will be asking them to perform again!"
- Colin and Caroline M. San Jose
Tell us about your expereince with Phil 'n The Blanks